On Monday night, as he was about to leave for Paris, Cheikh Modibo Diarra, Mali's interim Prime Minister was arrested at his home in Bamako, bundled into a car and driven off to face Captain Sanago and his junta. Someone didn't want Mr Diarra to get to Paris.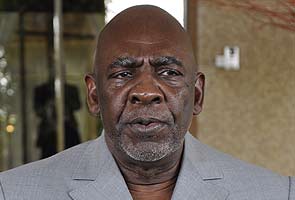 In the early hours of Tuesday morning – sweating, shocked and tired – Diarra addressed the nation on TV: 
"Our country is living through a period of crisis. Men and women who are worried about the future of our nation are hoping for peace. It's for this reason that I, Cheikh Modibo Diarra, am resigning along with my entire government on this day, Tuesday, Dec. 11, 2012. I apologize before the entire population of Mali."
Mali suffered its second bloodless coup this year, just as the glimmer of hope of dialogue between the Malian government, MNLA and Ansar Dine seemed to be appearing on the horizon. 
It is hard to see who gains from Diarra's removal, especially if you are looking at this from the perspective of searching for a solution.
Diarra seems to suggest that his "reason" for resigning was because people are "worrying about the future … and hoping for peace." How he thinks his removal will help with these aspirations is unclear.
Of course Diarra was no more representative of the people to whom he spoke in his resignation than Captain Sanago and his Junta who reluctantly put him there in the first place. But the humility, inclusivity, aspiration and apology in his resignation suggest that this US and French educated NASA astrophysist was trying to serve his country's interests at this difficult time. 
Like all the twists and turns in the Mali crisis, this second coup d'etat was less about the bullet of warring local factions and more about the tam-tam of regional strategic politics. The Mali crisis has been less a game of cowboys and Indians, more of musical chairs.
The first coup d'etat in March was not the usual gun battle we have come to expect around an African president's  removal from power. Not a shot was fired in anger when the unknown young captain Sanago walked into the Presidential palace and took over President Amadou Toumani Toure's vacant seat.
The subsequent vacuum of power and authority created by the coup did not stem the MNLA rebellion from the north but rather enabled the rebels to sweep across the desert and take Timbuktu, Gao and Kidal in quick succession totally unopposed. More significantly, and perhaps with hindsight more predictably, the vacuum of power enabled the AQMI/MUJAO/Ansar Dine islamists to follow on the MNLA coat tails. Rather than uniting with the rebels, the islamists immediately opposed their aspirations and spoilt the Azawad independence party. Again no significiant fighting.
When Diarra arrived at the Kati barracks HQ under the cloak of darkness, Sanago will have asked how discussions in Ouagadougou with the MNLA and Ansar Dine had gone. Of the meeting in Ouagadougo, the mediating Burkina Faso foreign minister, Djibril Bassole, said: "The three delegations agreed on the need to create a framework for inter-Malian dialogue, which will be inclusive, and would involve representatives of the different communities living in northern Mali". This would seem to be a big positive step. 
Sanago will have also questioned why Diarra was going to Paris so soon after appearing on TV in Mali calling for the people to come out and demonstrate to invite the international world to come to Mali to help the country capture back its northern territory.  He is the first major game player in the Malian crisis to call on international forces to come into the country. 
The idea of an international force having to come into the country would have been an anathema to Diarra and the people of Mali only a year ago. Now Diarra sees what many Malians from both sides have long felt: that the crisis is beyond a Malian and even a regional solution, and major international assistance may now be critical to any solution that doesn't just make matters worse.
The world's response to this call has been continued denial. We are told that this is primarily a Malian problem and then secondly an African problem. We are told that the first thing to do is to have elections so democratic legitimacy is restored. Once the country has a legitimate government then African nations will help get rid of the international terrorists.
How can you have a freely elected government when half of your territory is occupied by foreign forces and the inhabitants of that land are either refugees outside the country or are living under occupation? 
And how do you fight islamist terrorists with troops who have no interest or proper training to fight them?
The international community's refusal to accept any role in the causes of the Mali crisis and their reluctance to take on the crisis seriously now does nothing to support voices like Diarra's, and everything to give a free hand to the likes of Captain Sanago, his supporters and backers, whoever they may be, as recent events have shown.
Sanago's latest round of musical chairs poses the same fundamental question as his first. Who is paying the piper and why?
Who may not want the MNLA, Ansar Dine and the Malian government talking? Who may not want a serious international engagement with the Mali crisis? Who gained most from Sanago's first coup d'etat? Who gains most now? 
.